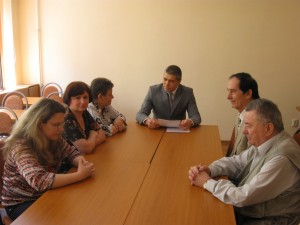 The Department of Clinical Laboratory Diagnostics was founded in 1986 on the basis of the Course clinical laboratory diagnostic and the Course of Immunology, the Faculty for Training of Doctors. From 1986 until 2010 as Head of Department was headed by Vasile Niguleanu, doctor of medicine, professor, laureate of the State Prize of the Republic of Moldova in the field of science and technology. During this period it was created the material basis of the Department and established the principles of conceptual training at the department. Under Vasile Niguleanu is guidance were defended three PhD theses in medicine. Professor Vasile Niguleanu currently works as a consulting professor in the Department and is a president of the Laboratory Medicine Association of Moldova.
During the period 2010 – 2012 the head chair was made ​​by Valentin Gudumac, doctor of medicine, professor. Valentin Gudumac is a leading figure of the clinical laboratory diagnostic services in Moldova, actively participating in the optimization and reorganization of the service. Another branch of activity of professor Valentin Gudumac the implementation is  focuse on of contemporary methods of diagnosis which have a positive impact both on terms of information and economic. Professor Valentin Gudumac is mainly being the main specialist in clinical laboratory service of the Ministry of Health of Moldova and President of the Attestation Commission of the Ministry of Health.
From 2012 till now as head of the chair of department is Anatoly Visnevschi, doctor of medicine, professor.
Within the department over the years have worked V. Marin, MD, associate professor, V. Marcenco, MD, associate professor, assistant professor V.Vozian, doctor of medicine Tamara German, assistant professor Ludmila Igonin.
Nowadays within the Department are 3 PhDs in medicine, university professors and two assistants.
From didactic and scientific point of view, the department collaborates with the Academy of Postgraduate Studies (Moscow, Russia), the Institute for Training of Doctors in Kiev (Ukraine) and the State University "Alexandru Ioan Cuza" University of Iasi (Romania).